The Hastings Prince Edward Land Trust is a volunteer-run organization that encourages people to work cooperatively to conserve the natural and cultural heritage of the community. In addition to promoting good land conservation practices, the Trust also promotes scientific research, educational and social activities. HPELT's long-term goal is to manage the land in a sustainable way. HPELT is a member of the Canadian and Ontario Land Trust Alliances and is certified by Environment Canada (link) to receive Ecological Gifts.
Incorporated in 1998, HPELT operates in the historic Counties of Hastings and Prince Edward of Eastern Ontario , Canada . Extending from the shores of Lake Ontario to the edge of Algonquin Park this area is important for migrating wildlife, biodiversity, water resources and much more.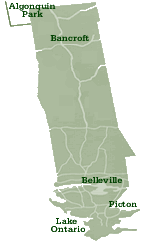 Prince Edward is one of the premier birding destinations in the province. Featuring an Important Bird Area and the Prince Edward Bird Observatory, the County includes the world-famous Sandbanks Provincial Park , and historic elements of the early settlement by the United Empire Loyalists (including numerous ship wrecks offshore).
Hastings County features great landscape diversity as the Great Lakes – St. Lawrence lowlands transitions to the Canadian Shield . (Please see www.thelandbetween.ca for more information). These landscapes historically provided opportunities for farming, logging and mining as well as habitat for a wonderful diversity of wildlife. Hastings is a gateway to Algonquin Park , and to the recreational lake country of the Canadian Shield . Our region is rich in cultural and natural diversity, is a major source of water for drinking and recreation, as well as a land base for food production.
Although the Hastings Prince Edward region contains a rich diversity of landscapes and wildlife habitat, ongoing development and intensive recreational uses are threatening what remains of our unspoiled natural treasures